Product Summary
The TMS320F206PZ is a digital signal processor (DSP). It is fabricated with static CMOS integrated-circuit technology, and the architectural design is based upon that of the TMS320F206PZ, optimized for low-power operation. The combination of advanced Harvard architecture, on-chip peripherals, on-chip memory, and a highly specialized instruction set is the basis of the operational flexibility and speed of the F206.
Parametrics
TMS320F206PZ absolute maximum ratings: (1)Supply voltage range, VDD (see Note 1): – 0.3 V to 7 V; (2)Input voltage range: – 0.3 V to 7 V; (3)Output voltage range: – 0.3 V to 7 V; (4)Operating free-air temperature range, TA (TMS320F206PZ): 0 to 70℃; (5)(TMS320F206PZA): – 40℃ to 85℃; (6)Storage temperature range, Tstg: – 55 to 150℃.
Features
TMS320F206PZ features: (1)High-Performance Static CMOS Technology; (2)Includes the T320C2xLP Core CPU; (3)TMS320F206 is a Member of the TMS320C20x Generation, Which Also Includes the TMS320C203, and TMS320C209 Devices; (4)Instruction-Cycle Time 50 ns @ 5 V; (5)Source Code Compatible With TMS320C25; (6)Upwardly Code-Compatible With TMS320C5x Devices; (7)Three External Interrupts; (8)32-Bit ALU/Accumulator; (9)16 × 16-Bit Multiplier With a 32-Bit Product; (10)Block Moves from Data and Program Space; (11)Support of Hardware Wait States; (12)Power Down IDLE Mode.
Diagrams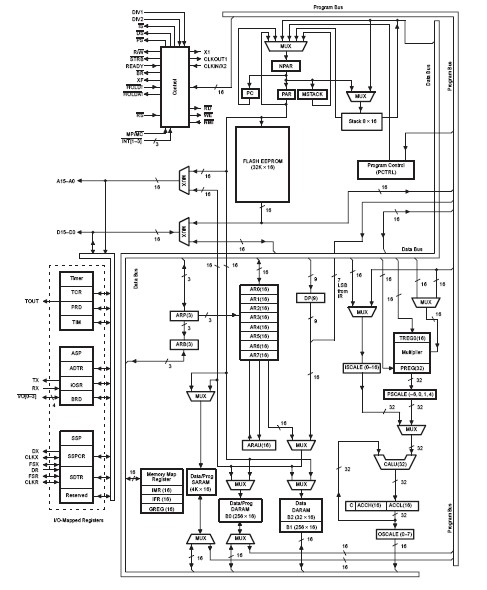 Image
Part No
Mfg
Description
Pricing
(USD)
Quantity

TMS320F206PZ

Texas Instruments

Digital Signal Processors & Controllers (DSP, DSC) Digital Signal Proc

Data Sheet

Negotiable

TMS320F206PZA

Texas Instruments

Digital Signal Processors & Controllers (DSP, DSC) Digital Signal Proc

Data Sheet

Negotiable