Product Summary
The BQ2057WSN is an advanced linear charge management ic. The BQ2057WSN is designed for costsensitive and compact portable electronics. They combine high-accuracy current and voltage regulation, battery conditioning, temperature monitoring, charge termination, charge-status indication, and AutoComp charge-rate compensation in a single 8-pin IC. MSOP, TSSOP, and SOIC package options are offered to fit a wide range of end applications.

Parametrics
BQ2057WSN absolute maximum ratings: (1)Supply voltage (VCC with respect to GND): -0.3 to +18 V; (2)Input voltage, SNS, BAT, TS, COMP (all with respect to GND): -0.3 V to VCC+0.3 V; (3)Sink current (STAT pin)not to exceed PD: 20 mA; (4)Source current (STAT pin)not to exceed PD: 10 mA; (5)Output current (CC pin)not to exceed PD: 40 mA; (6)Total power dissipation, PD (at 25°C): 300mW; (7)Operating free-air temperature range, TA: -20℃to 70°C; (8)Storage temperature range, Tstg: -40℃to 125°C; (9)Lead temperature (soldering, 10 s): 300℃.
Features
BQ2057WSN features: (1)Integrated Voltage and Current Regulation With Programmable Charge-Current and Highor Low-Side Current Sensing; (2)Integrated Cell Conditioning for Reviving Deeply Discharged Cells and Minimizing Heat Dissipation During Initial Stage Of Charge; (3)Charge Status Output for Single or Dual Led or Host Processor Interface; (4)Automatic Battery-Recharge Feature; (5)Charge Termination by Minimum Current; (6)Automatic Low-Power Sleep Mode When VCC Is Removed; (7)EVMs Available for Quick Evaluation; (8)Packaging: 8-Pin SOIC, 8-Pin TSSOP, 8-Pin MSOP.

Diagrams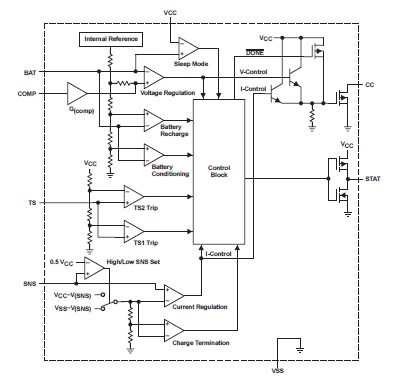 Image
Part No
Mfg
Description
Pricing
(USD)
Quantity

BQ2057WSN

Texas Instruments

Battery Management Li-Ion LDO Linear Charge Management IC

Data Sheet



| | |
| --- | --- |
| 0-1: | $1.55 |
| 1-25: | $1.42 |
| 25-100: | $1.12 |
| 100-250: | $1.06 |


BQ2057WSNG4

Texas Instruments

Battery Management Li-Ion LDO Linear Charge Management IC

Data Sheet



| | |
| --- | --- |
| 0-1: | $1.25 |
| 1-25: | $1.14 |
| 25-100: | $0.79 |
| 100-250: | $0.77 |


BQ2057WSNTRG4

Texas Instruments

Battery Management Li-Ion LDO Linear Charge Management IC

Data Sheet



| | |
| --- | --- |
| 0-1930: | $0.59 |
| 1930-2000: | $0.58 |
| 2000-2500: | $0.58 |
| 2500-10000: | $0.57 |


BQ2057WSNTR

Texas Instruments

Battery Management Li-Ion LDO Linear Charge Management IC

Data Sheet



| | |
| --- | --- |
| 0-1930: | $0.59 |
| 1930-2000: | $0.58 |
| 2000-2500: | $0.58 |
| 2500-10000: | $0.57 |